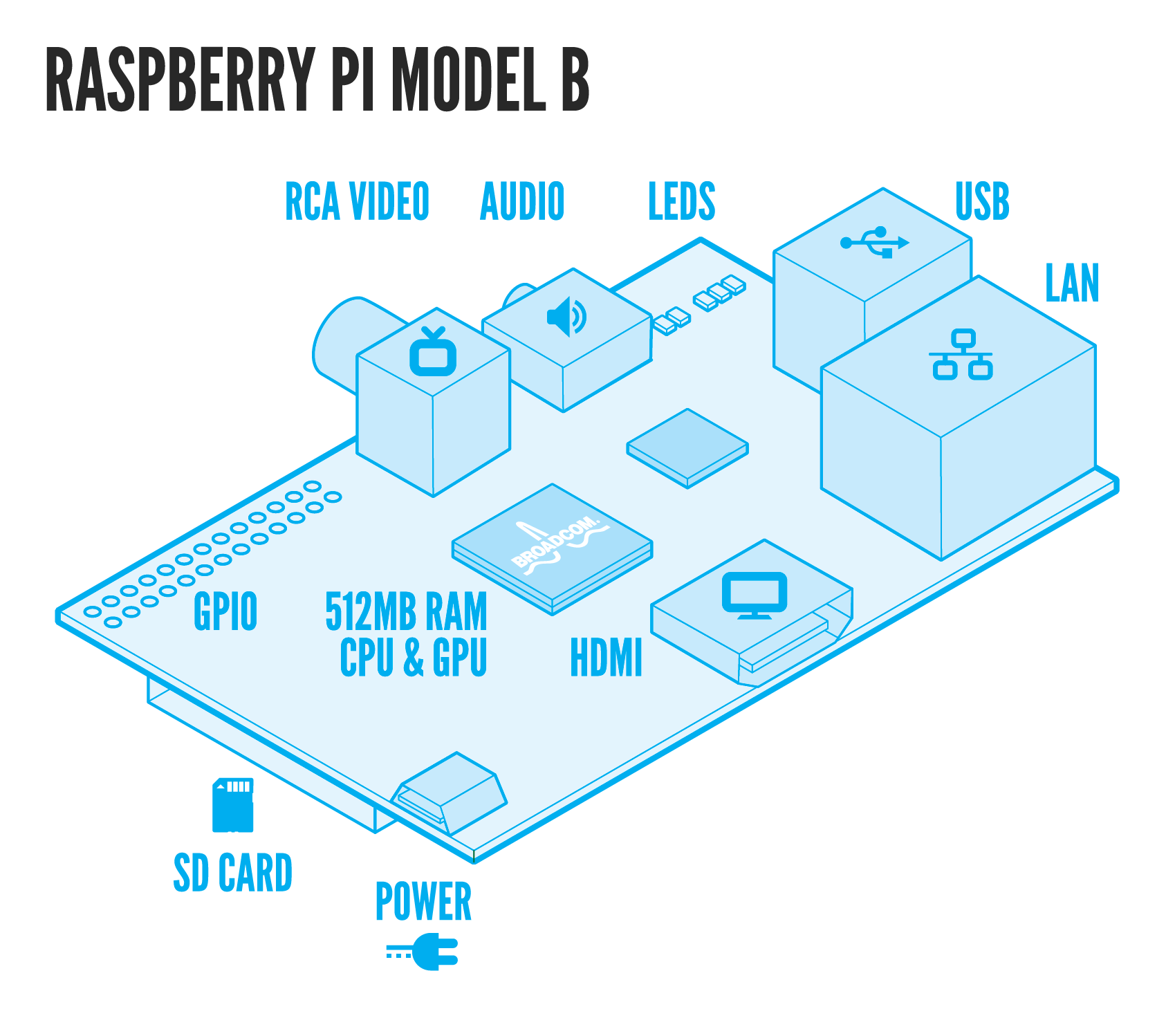 Like many nerds, this Christmas I became the proud owner of a Raspberry Pi, the credit card sized Linux computer, powered by an Arm processor and which retails at a mere £25. I've still got laptops with less power than this British designed beauty!
If you're anything like me, you've had a jolly good play and promptly broke it. In my case, I tried to do an update and for an as yet unknown reason (possibly my own impatience), the operating system got corrupted; after which the light was on, but nobody home.
Two of the best things about this mini computer are a) the vibrant a growing community of fruity baked enthusiasts and b) the (almost) total lack of flashable firmware. This means that there's plenty of help to be had and it's almost impossible to turn it into junk, by damaging it's on-board ROM, known as 'bricking'. Actually I can think of only two ways of completely destroying the Pi, namely a lightning strike or a hammer!
The Pi gets almost all of its gubbins from the SD memory card, which holds the operating system. I got a pre-installed version of Wheezy, the Linux Debian distribution also known as Raspbian, which has been released specifically for this device. If anything goes awry, this is where the problem is likely to be.
So what went wrong and why won't it turn back on?
I don't know, you go figure that out, it's kinda the whole point.
How do you fix it and get it back to a clean installation?
First you will need to properly re-format your SD card, here's how you do it:
Grab your 'normal' computer (probably the one you're reading this on).
Find yourself a USB reader for SD cards, if you have one built into your computer you can try that, but it might not work, as many aren't able to write to the card in the way that we will need it to.
Download the official SD card formatting tool, as the one which comes with your operating system (in my case Windows 7 64 bit), won't do the trick.
Pop your card into the reader, ignoring or cancelling any messages which pop-up.
Go to your download folder and find the formatting tool, probably sdfmt_31.zip, open it and run setup.exe, following the prompts to install it onto your system.
Find 'SDFormatter' in your start menu, right click it and select 'Run as administrator', clicking 'yes' if windows asks you to confirm this, if you don't allow it to use the administrator permissions, it might not work properly.
When the tool opens find your SD card in the drop down list beside 'Drive:' and select it, if it doesn't show up at first, click 'Refresh'.
Now you will need to click 'Options' and (once they open) beside 'FORMAT SIZE ADJUSTMENT', select 'ON' from the drop-down menu and then click 'OK'. This will allow any partitions which were created for the previous (now busted) operating system, to be removed and the full capacity of your SD card restored.
Finally click 'Format' and wait for it to be completed, once it has your card will be ready for a new operating system to be written to it.
Close the SDFormatter tool.
Now you need to write a new operating system to the card, here's how you do that:
Note: You may need to disable your anti-virus program.
Download the latest copy of your favourite Raspberry Pi operating system (here's a list of them). I'm using Raspbian Wheezy as it's the most 'Windows like', slightly easier if you're new to Linux and it's officially supported by the Raspberry Pi Foundation. However this method should work for other operating systems, including OpenElec's breed of XBMC (x-box media centre).
Download a copy of Arm Installer for Windows 7 & Vista from Fedora. While this image writer is a 32 bit program, it still works on a 64 bit system, where as the usually recommended Win32DiskImager, does not work on my Win7 64 bit.
Now extract both the zip files you downloaded to folders on your desktop.
Go into the Arm Installer's folder (probably faii-1.0.2-3-x32), find fedora-arm-installer.exe, right click it and 'Run as administrator'.
Ignore the black prompt box, its the graphical interface we want.
Click 'Browse' and find the operating system you downloaded and extracted to your desktop, probably 2012-12-16-wheezy-raspbian.img  (it may have a different date), now click 'Open'. You could also skip this and use the installer to download Fedora's own OS for the RPi, just hit the refresh arrows and select it from the drop-down list.
Under 'Device' select your newly reformatted SD card, if you don't see it, click the refresh arrows.
Then click 'Install' and wait for it to complete.
Close the Arm Installer program and safely remove the memory card containing your fresh OS.
Finally pop it into your Pi, power up and follow the on-screen instructions to configure you're new installation (be patient, as it can take a little while to complete).